PROCESS DESCRIPTION OF THE 150mm DMS PLANT
The sample is weighed using a pallet scale prior to processing. Sub samples are also taken prior to processing to determine the moisture content of the material.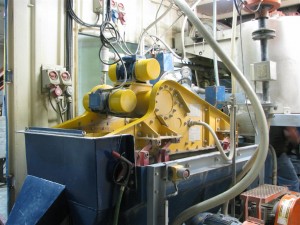 The sample is loaded into a feed bin where a fixed grizzly removes all +150mm material which is subsequently broken up using a hydraulic splitter and then fed back into the bin. The sample is crushed to +75mm using a jaw crusher.  Sample is then loaded into the plant feed bin, a fixed grizzly removes +75mm oversize, which is broken up using a hydraulic splitter and manually fed back into the bin. Material is drawn out of the bin in a controlled manner using a belt feeder where it passes onto the feed conveyor.
The feed conveyor discharges material into the scrubber launder where it is mixed with water. The material then passes through a trommel screen where any +10mm oversize material gravitates to a Jaw crusher where it is crushed to –10mm and returned by conveyor to the feed conveyor for reprocessing.
All -10mm material that passes through the trommel screen gravitates to the feed preparation screen where it is washed to remove undersize (-0.8mm or -0.3mm). The undersize is pumped to the de-gritting circuit for water recovery and slimes disposal.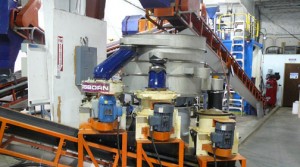 The washed and sized –10+0.8mm or 0.3mm material reports to the mixing box where it is mixed with ferrosilicon (FeSi) before being pumped to the 150 mm DMS cyclone. A separation is effected under pressure and the resultant products are first drained and then washed to recover adhering FeSi. The screen washings are pumped to the wet drum magnetic separator for medium recovery and densification.
The tailings report to the DMS tailings conveyor which feeds them into a screening unit that sizes the material and feeds it to one of three cone crushers, based on particle sizes of +6mm, -6mm+4mm and -4mm+2mm.  This arrangement provides a progressive crushing of the tailings, followed by a repeat pass through the cyclone prior to undergoing the next, finer stage of crushing. This cycle is repeated until all material has passed through the 2mm screen whereupon it's processing is considered complete and it is stored in 55 gallon drums.